What happens to students when they leave school?
Moses Kamya, the Director of Mustard Seed Humanist Secondary School, Busota, Uganda, has set out what happens to students when they leave school. This is his account:
"It is good news to hear that donors are interested to hear about our students' performance when they leave school. Our students have many opportunities for later advancement:
About 10 join universities each year, eg Ivan Kayondo is a second year BSc education student at Busitema university , Joan Mukisa is a second year law student at Makerere University ( all were UHST sponsored). David Banige is in third year doing BSc Agric, Paul Madandha completed a degree in primary teaching, Derick Mulondo(UHST funded) is a third year BScEduc student at Busitema University, etc.
About 10 join secondary school teacher training, eg Mathias Ochan(UHST funded) is now teaching with us having done a diploma in teacher training at Kaliro teachers college. Other former students teaching with us after after completing a diploma include Nyago Andrew, Matege Conelius, Okello Peres and Hellen Namaganda.
Of late many of our children have taken up nursing and other medical courses after senior four, about 20 each year. Gilbert Tusubira(UHST funded) is completing a two year nursing course, Baidu Simon(UHST funded) is in year one doing lab technology, Hellen Mukoda has completed her nursing course from Jinja, others on the nursing course are Shafik Mpaata(first year), Joan Nyabweze(first year) Perinah Kyowansa(second year), Doreen Nabirye(second year) Grace Mukoda(second year), Viola Bugonzi(first year).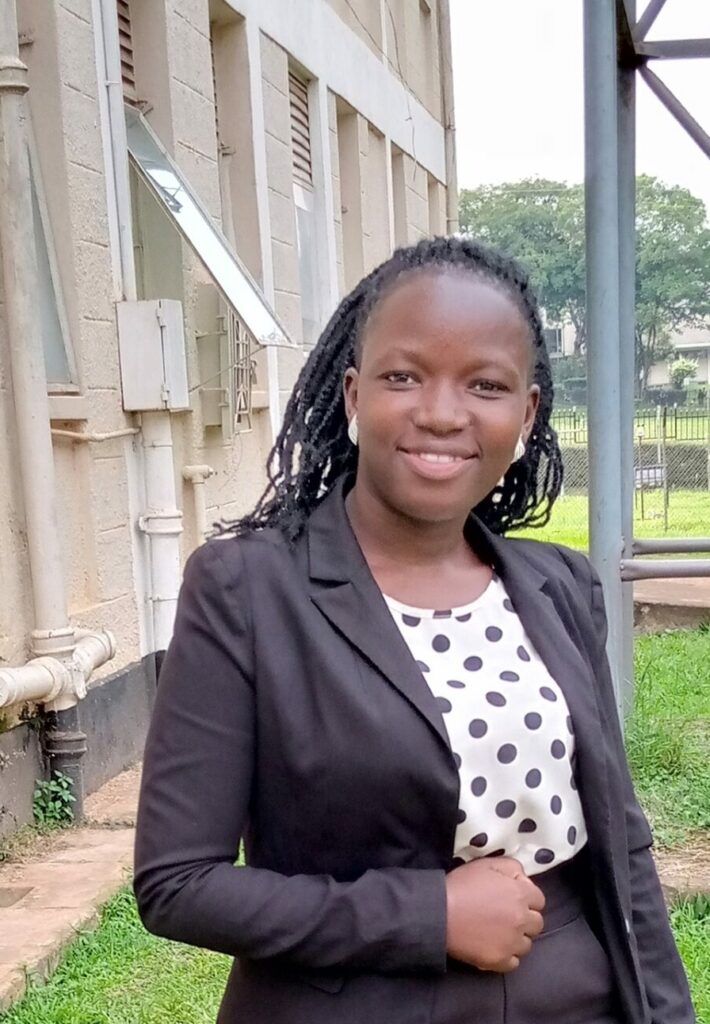 Joan Mukisa is about to start the third year of her degree at the prestigious Makerere University Law School.
About 15 join other vocational courses in technical institutions like carpentry, catering, beauty and cosmetology, motor vehicle driving and mechanics, plumbing, welding and fabrication, secretarial courses, primary teachers colleges, book keeping, and others. Gloria Mukyala(UHST sponsored), completed a primary teachers certificate from Iganga teachers college last year, Lukia Naigaga (UHST funded) has just finished her certificate in catering from Kamuli polytechnical school. After further vocational training our former students become secretaries, car mechanics, carpenters, welders, builders, salon operators and other trades.
About 50 every year with poorer O levels and those that fail A level become self employed as farmers, bricklayers, shop keepers, boda bodas riders (motobike taxis), making street food like chapati and rolex (a filled chapati and omelette), hotel and bar workers, market vendors. Sosi Kalema finished with us in 2015 and is now a taxi driver plying the Kamuli-Jinja route.
About 10 every year completely drop out of school without any job. Being in the 16-19 age range, some marry and become peasant farmers.
About 10 to 15 students go into many other fields, such as IT, music, art and design, truck drivers, DJs, comedians, taxi park, brokers, fish mongers, barbers, cobblers, motorcycle repairers, sugar cane cutters/loaders and even politics. Kaima Alex sat A level with us in 2017. He is now the youth counsellor for the Southern division in Kamuli municipality and has a place on the town council. Ivan Naulere completed S6 in 2017. Using the knowledge he obtained from computer studies, he established a computer training school in Wakiso district near Kampala.
So, as you can see, education at Mustard Seed School opens up many avenues for making a living."