Book Store
Uganda Humanist Schools Trust has set up a Human Studies Project with the Humanist Schools in Uganda. The aim is to create a resource bank of materials on important topics and to approach them in an empathetic humanist way. For primary children we have developed the concept of "Thoughtful Tales for Growing Minds", and are writing a series of books that teachers and other adults can read to children to stimulate thinking, questions and discussion. We are fortunate to be working with an outstandingly talented illustrator, Helen Machin-Mayer and, given the universal themes explored in the books, they are being written for an international audience. The first book, "Humfry Hippo Moves Home", will be available for delivery for the festive season. So, if you have children or grandchildren please place your order now.
The books are published by Uganda Humanist Schools Trust.
Proceeds will be used by the Trust to support the education of bright but needy children in humanist schools in Uganda.
THOUGHTFUL TALES FOR GROWING MINDS
Humfry Hippo Moves Home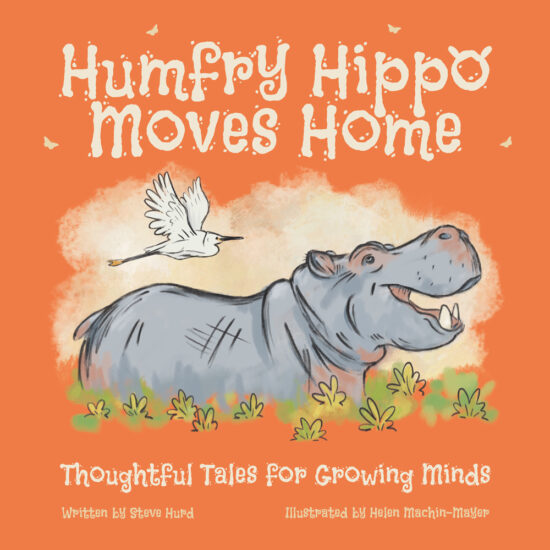 Written by Steve Hurd
Illustrated by Helen Machin-Mayer.
ISBN 978-1-8382762-0-1 5 short stories  36 pages  £10 per copy
Ages 5-9 years
All proceeds will go to support Humanist Schools in Uganda
Stories of the challenges of moving home. Humfry has to move when the waterhole where he lives dries up. Through Humfry's experiences, children will be prepared for the challenges of a real home move – missing old friends, feelings of loneliness, remembering, making new friends, settling in and enjoying a new home.
These thoughtful tales are designed to be read aloud to children by adults. They contain clear jumping off points where children can explore their feelings and sense of empathy towards others.
The book is one of a series of Thoughtful Tales for Growing Minds, which aim to help children to develop a moral compass for a secular age.
THE LITTLE GIFT THAT CHILDREN AND GRANDCHILDREN WILL REMEMBER

Why not send the link to your friends?
Readers' comments:
"I love it. I really enjoy reading about Humfry." Florence; "The stories are amazing!" Pietro
"This is a brilliant set of tales for children which entertain, educate and get them thinking about moral issues and living a good and happy life with their friends, families and communities." Gillian, librarian, teacher and grandmother, UK.
"Our children love them, and our teachers enjoy using them. They encourage children to talk about their feelings and improve their English-speaking skills. The language level is perfect for primary age children in Uganda." Juma, Katumba Parents Humanist Primary School, Uganda.
"I like the way real animal behaviour has been slipped into the tales as well as ideas for the children to express their views on human foibles." Lynn, biologist and grandmother, UK.
"The Humfry Tales encourage children to talk in a thoughtful way about their feelings. The book is unique compared with the more usual rhyme and story books." Hellen, New Hope Day Care Humanist Nursery School, Ntoroko, Uganda.
You may purchase one or more copies of the book using a credit or debit card by clicking the link:
or by sending a cheque to our address below:
Uganda Humanist Schools Trust (UK)
Address: 31 Greenmeadows Road, Madeley, Crewe, CW3 9EY, UK
Info: stevehurd@uhst.org  +44 (0) 7773 972601 https://ugandahumanistschoolstrust.org