Katumba orphans succeed against the odds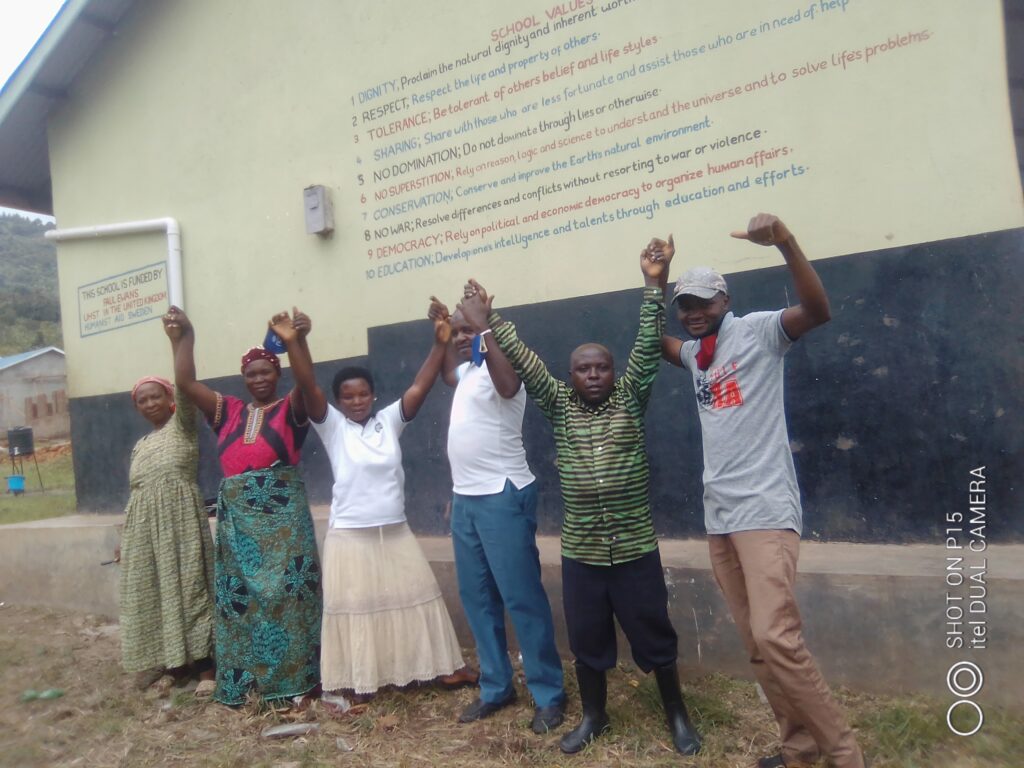 Despite poverty, Covid school closures and the deaths of fathers in an uprising in 2016, boys and girls from Katumba Parents Humanist Primary School gained outstanding results in their Primary Leaving Examinations (PLE)*. Of the 16 who sat their exams,
38% (6) gained Grade 1
62% (10) gained Grade 2
As one of the most remote schools in Uganda, just a few kilometres from the Congo border, this is a huge achievement for the children, teachers, ancillary staff and supportive parents in the Katumba community, who can all feel justly proud of their achievement.
Two of the children. Maureen Nyangoma and Masereka Ayubu, whose fathers were killed in the 2016 insurrection owe a huge debt of gratitude to the determination and resilience of their mothers. After her husband died, Maureen's mother, Margret, was left to bring up 10 children in a semi-permanent mud and wattle house, making a little money from selling any surplus food she grew. Masereka's mother, Sarah, was left in similar circumstances caring for 8 children. They are both delighted with what their children have achieved through hard work and see their success building a legacy of hope for their entire families' futures.
Juma Irumba Siriwayo, the school Director, says support from Uganda Humanist Schools Trust, working in partnership with Humanist Aid (Sweden), has transformed their situation. "Since 2018 we have had funds to pay our teachers regularly and to support them during the Covid closures. Staff morale has improved. We have provided partial scholarships to keep bright children from struggling families in school. We have also been able to give our children text and reading books, which have improved the quality and opportunities for learning."
As a result of funds provided by a generous UHST supporter, Katumba is close to completing the construction of a fine new school on a safe site. Nursery, infant and junior classrooms are finished, as are toilets, cook house, mains water supply and electricity. The admin block with staff rooms, a library and computer room will be finished in a few weeks. The school director and his colleagues have worked tirelessly to keep the building work going through numerous covid lockdowns and adverse weather conditions linked to climate change.
Although it is tragic that many fathers will never know of their children's' achievements, the surviving mothers of Katumba can certainly be proud of their children and of their own efforts to create a better life in a more caring and rational world.
When the school reopens after the latest Covid lockdown UHST will provide some funds for a party to celebrate the opening of the new school and the outstanding 2020 exam results.
* The PLE has 4 pass grades and one fail grade, but all Katumba children gained passes in the highest two grades. The size of the achievement can be seen by comparison with the averages of all other primary schools in Uganda, where:
Only 11% gained Grade 1
46% gained Grade 2
And the rest gained lower pass grades or failed:
20% gained Grade 3
13% gained Grade 4
And 10% of all children entered for the exam Failed