Thoughtful Tales for Growing Minds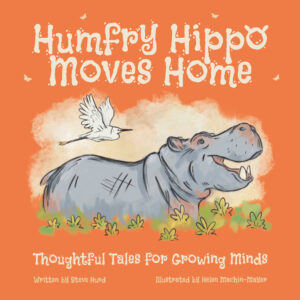 During the Covid-19 pandemic UHST has produced the first in a new series of books which seeks to help young children to develop a moral compass for a secular age. Initially written to be read to the children in the Humanist primary schools in Uganda, the universal themes explored in the books have wide international appeal.
The series title is "Thoughtful Tales for Growing Minds". Each book is designed to be read aloud by teachers and other adults, including parents and grandparents. The short stories provide cues for reflection and conversation with children about personal, social and global themes that arise.
The first book, "Humfry Hippo Moves Home", addresses the challenges of moving away to another place. Humfry has to move when his waterhole dries up. Through Humfry's experiences, children are prepared for the challenges of a real home move – missing old friends, feelings of loneliness, remembering, making new friends, settling in and enjoying a new home. Humfry remembers an ancient Ugandan folk myth that his grandmother used to tell. It explains how hippos lost their hair and explores jealousy and forgiveness.
Humfry and the other books should appeal to parents and teachers wishing to nurture thoughtful and caring children who wish to create a good life for themselves and for those around them.  We aim, through the stories, to stimulate a love of the natural world and an appreciation of the challenges it faces.
Book details: Humfry Hippo Moves Home
5 short stories 40 pages for target age group 5-9 years.
Written by Steve Hurd and delightfully illustrated by Helen Machin-Mayer.
Published by Uganda Humanist Schools Trust.
ISBN 978-1-8382762-0-1     Price (Incl. P&P)  UK & EU £10.00, Rest of World £14
Proceeds will be used by the Trust to support the education of needy children in Humanist Primary Schools in Uganda.
Cheques to: Uganda Humanist Schools Trust (UK), 31 Greenmeadows Road, Madeley, Crewe, CW3 9EY, UK
Info: stevehurd@uhst.org  +44 (0) 7773 972601
Comments by readers of the book:
"I love it. I really enjoy reading about Humfry." Florence; "The stories are amazing!" Pietro
"This is a brilliant set of tales for children which entertain, educate and get them thinking about moral issues and living a good and happy life with their friends, families and communities." Gillian, librarian, teacher and grandmother, UK.
"Our children love them, and our teachers enjoy using them. They encourage children to talk about their feelings and improve their English-speaking skills. The language level is perfect for primary age children in Uganda." Juma, Katumba Parents Humanist Primary School, Uganda.
"I like the way real animal behaviour has been slipped into the tales as well as ideas for the children to express their views on human foibles." Lynn, biologist and grandmother, UK.
"The Humfry Tales encourage children to talk in a thoughtful way about their feelings. The book is unique compared with the more usual rhyme and story books." Hellen, New Hope Day Care Humanist Nursery School, Ntoroko, Uganda.