UHST Report to September 2020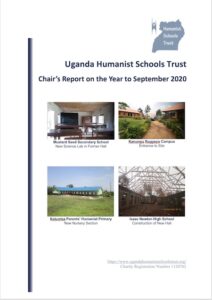 The latest report from Uganda Humanist Schools Trust has been published:
https://ugandahumanistschoolstrust.org/wp-content/uploads/2020/09/20-Chairs-Report-to-Sept-2020.pdf
It reiterates two key long-term goals for the organisation and for the Humanist Schools in Uganda:
Access to High Standards of Education and Welfare within a Liberal, Humanist Ethos To achieve this we need to continue providing scholarships to enable bright children from deprived backgrounds to enjoy the benefits the Humanist Schools provide with their rising standards of learning and welfare in a happy, supportive atmosphere.
Independent Learning – We want to help each school to empower students to become freethinking individuals, who question everything in a hunger for truth. We are trying to help teachers to shift from being "tellers" to being "enablers". The schools need more physical spaces for independent study, with ready access to books and computers as resources for learning. Hitherto we have relied on off-line learning resources, such as the RACHEL Repository, but we are now moving to developing online learning, and the time has come to use social networking to link together students in the different Humanist schools with other students around the world. It would be nice to see schools creating online newspapers and podcasts and becoming excellent users of computers and social media.
Read more by clicking the link.