UHST 10th Anniversary £150,000 Building Appeal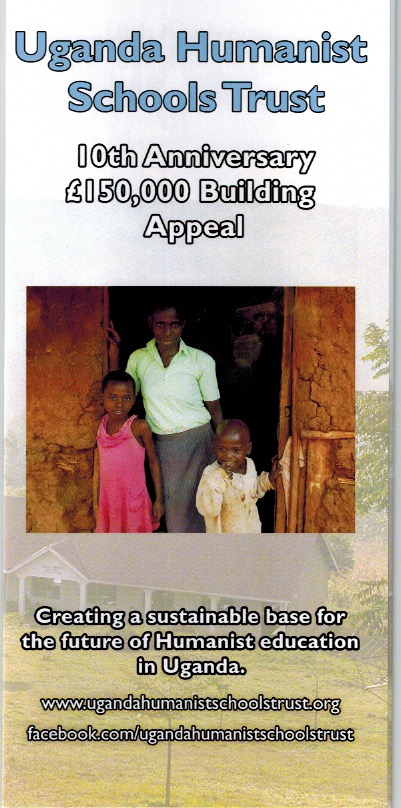 Two months ago we launched a building appeal, marking the 10th Anniversary of Uganda Humanist Schools Trust, with the aim of completing the infrastructure of the two Humanist High Schools we support, Isaac Newton and Mustard Seed Schools.
The money will be used to build Library & Information Centres, Multi-purpose School Halls, Boarding Hostels and Science Laboratories. These faciities are needed to cope with the growing numbers of students being attracted by the high educational and welfare standards in the Humanist Schools. For many years the schools struggled with fewer than 100 students, but they are now attracting their target intakes of 600 students, which places great pressure on building capacity.
The appeal has got off to a good start, with over £60,000 pledged already. The appeal is not time limited. We aim to continue it until the job is done.
I attach for your information a copy of the leaflet (click link) we have produced to support the appeal. Clearly we should be delighted if you would help us personally with a donation. Equally we would
be grateful for anything you could do to spread word of the appeal through friends or groups with which you are associated. I should be happy to send you copies of the printed leaflet. Just let me know how many you would like, where you would like them sent and I will pop them in the post.
The staff and students in the schools are excited about the appeal. We aim to progress the work as the money comes in so that, over the course of the next year, we hope to see the money raised making a real difference to the schools and communities where the schools operate.
We really do appreciate the support you have given the schools over the years. We are delighted that the long-term commitment shown by our supporters and the enormous efforts made by the schools themselves seems to be transforming the lives of the children, their families and the wider communities. Everyone involved should feel proud of the progress made. It has been a long, and not always smooth process, but we now have grounds for cautious optimism.
Thank you for your help.
Best wishes
Steve Hurd
Chair, UHST