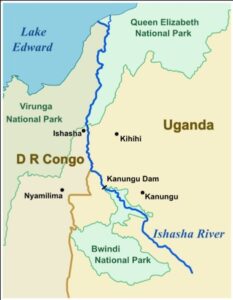 Kanungu is in a hilly area in the west of Uganda. It borders the Congo and Bwindi Impenetrable Forest, home of the mountain gorillas. The religious cult murder of 780 local men, women and children in 2000 caused many in the area to reject organised religion. One of these was the young Robert Magara who, returning from school, witnessed the aftermath of the massacre. Robert completed his education, abandoned his Catholic faith and, after reading 'The God Delusion' by Richard Dawkins, became a Humanist, vowing to do all he could to help his community heal the wounds of past religious divisions.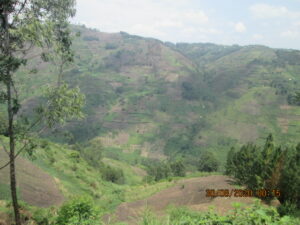 In 2017, Robert set up Kanungu Secular Schools Project.  He attracted funds from the US-based Brighter Brains Institute (BBI) for building classrooms and he recruited young teachers from the community who shared his Humanist vision for the school. Kanungu Humanist Primary School was established on a not very promising plot of land high in the hills and work started on a secondary school on land lower in the valley. At the start of the 2020 school year, the primary school had 186 children and the secondary school 45 in two classes. In 2019 BBI started to wind down as a charity and could no longer fund the Kanungu developments.
The primary school, while successful, was cheaply built and vulnerable to adverse weather. Last year, during a storm, the end wall of the main building collapsed. Earlier this year, after many exchanges by email and messenger, UHST worked with Robert on a plan to put the primary school on a firm footing. The first job was to get the school legally registered as a not-for-profit company. A Board of Directors was established, with Robert as Managing Director and representation for UHST. Robert is now working with UHST's accountant in Kampala, Dan Kasanda, to create a robust set of baseline accounts for 2019.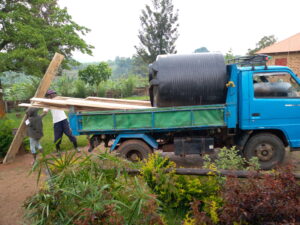 The next priority was to help the school financially. We provided some cash to provide hardship payments to teachers, who had received no income since April, when all Uganda schools were closed in response to the Covid-19 pandemic. A school is nothing, without its teachers.
The school has to meet the Uganda government's Covid-19 operating standards before it will be allowed to reopen, along with other schools, in January 2021. As the school had no water on site, meeting hand-washing requirements was going to be a problem. Kanungu has heavy rain, well over 100 inches a year, so, at Robert's request, we provided funds for a tank to harvest rainwater from the school roofs. This has now been installed (see picture of water tank arriving at the school site).
Given the loss of BBI funds, Robert had no alternative but to close the embryonic secondary school. Fortunately, he is managing to find the children places in schools around. In January the primary school will reopen on the former secondary school site. Over time, UHST has agreed to do what we can to help Robert to build the additional facilities the school needs.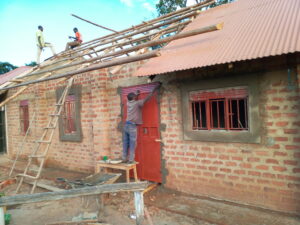 Already funds from UHST supporters have enabled two partially completed classrooms to be completed for Primary 2 and Primary 3 children (see picture). The new site can now accommodate 5 classes, Primary 1 through to Primary 5. Covid is putting pressure on UHST funds at the moment but, as soon as more money becomes available, we hope to provide funds to add 3 classrooms for nursery-age children. This will cost £8,620. Should you wish to help with this, please email: stevehurd@uhst.org or phone +44 (0) 1782 750338 or visit the donation page of our website: https://ugandahumanistschoolstrust.org/donate/make-a-donation/.
The tragic massacre in 2000 left deep scars on the Kanungu community. We are delighted to be able to help Robert to bring hope for the new generation of children seeking a brighter future.
Acknowledgement: We are very grateful to Terri Julians for drawing Kanungu's plight to our attention and for putting us in touch with Robert Magara. Terri has worked hard to maintain support for the school since it lost its main funding source.