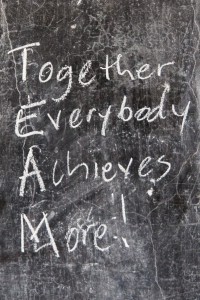 This is the 10th Anniversary of Uganda Humanist Schools Trust existence.
We have just returned from a wonderful two weeks in Uganda visiting the Humanist Schools.
I attach reports on the two secondary schools, Isaac Newton and Mustard Seed School, which are both thriving.
Due to their growing reputation for good educational standards and high levels of student satisfaction and welfare, the schools are growing fast and either at, or very close to, their target sizes of 600 students. Existing infrastructure is good, though that built a few years ago is in need of repair and repainting.

We have worked out what each school needs to cater well for the needs of 600 student and are launching an appeal for a final few buildings, including:
two hostels where needy students can live and study in a safe environment
a multi-purpose hall for assemblies, music, dance, drama, dining and examination
two Library & Information Centres for independent resource-based learning
two labs for computer studies
We are preparing the ground for holding an International Humanist Education Conference in Uganda in the 3rd week of January, 2020. The conference will be an opportunity to showcase the achievement of the schools by bringing conference participants to spend some time at each of the schools. Some UHST supporters might wish to plan to visit Uganda to combine a visit to the schools with a wildlife safari. Uganda is becoming a popular tourist destination.

We really appreciate your ongoing support for the Humanist Schools in Uganda and we are delighted that the effort we have all made together is coming to fruition. We would really appreciate your help in this big push, coinciding with the 10th Anniversary of UHST, to finish off the schools so they can continue to provide high standards of education and welfare for all the students within them. There is a growing self-confidence in the schools and a real sense of pride in which we should all share.
We are currently preparing publicity fliers, which we will try to get out to as many people as possible and w
e welcome any ideas you, or any groups you belong to, may have to help us reach our target of £150,000. To set this in perspective, in 2017 we raised £125,000, including a substantial amount in scholarships.
I welcome your questions or suggestions.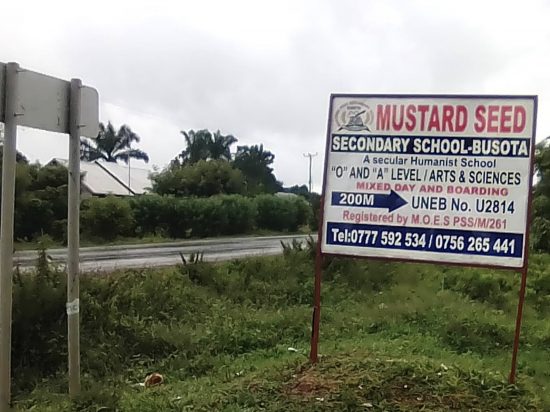 Moses Kamya, the Mustard Seed School Director, has just sent the following report of progress at the school over the past year:
"The support of Uganda Humanist Schools Trust (UHST) has enabled the Mustard Seed School Busota to continuously transform; not just in infrastructure and facilities, but
also the lives of learners therein.  Scholarships enabled over 60 bright but financially disadvantaged children to attain education that would have been beyond their reach.
In the 2017 UCE "O-level" UNEB results, we gained 12 first grades, 6 of whom were on UHST scholarships. In A-level, our best student scored 14 points and had been on a UHST scholarship through out her secondary schooling. Joan is now pursuing a B.A. degree course at university.
UHST provided all girls with reusable sanitary pads which has tremendously improved retention of girls in school. The steady supply of text books, science materials and equipment have been responsible for continuous
academic improvements at our school. Solar systems donated by UHST enable students in the boarding section to study even when mains power goes off, as it often does. Our children are happy at this development.
The RISO graphics printer now allows students to have printed handouts at minimum cost. Additional computers have made IT education fun for the whole school not just for passing of UNEB exams but for
computer literacy, general education and as a leisure activity for the whole school.
Most importantly, we have been able to take out long-term leases on all school land, except for one plot remaining, with legal fees met by UHST. The school now has safe piped water supplied by national water which has greatly improved on hygiene and sanitation.
The Four class room block at the lower campus(football field) funded by UHST has allowed us to reduce class sizes. Furthermore, the entire campus is fenced with chain link for children's security.
In spite of the above developments, Mustard Seed School continues to face challenges:
The computer room is still small and needs a bigger space to allow it serve its intended purpose.
The same applies to the existing library.
Dormitories are no longer enough for the children.
A multi purpose hall is needed to have children served meals from one place as opposed to eating from dormitories, and to use for school meetings, concerts and examinations.
Nonetheless, we shall reach there.
We are grateful to all our supporters for standing with us in helping the Mustard Seed School Busota provide Humanist education to children in Uganda."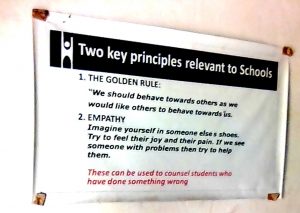 Mustard Seed Schools sits in a deeply religious community, both Christian and Moslem. It has therefore tried not to alienate the parents and families of its students. There have been periods when religious symbols have been banned in school, but these days the school takes a more tolerant stance towards private adherence to religious faith. It does expect students to show mutual understanding, though proselytising by any group is against the school rules and last year a student actively promoting extreme evangelical views was asked to leave the school.
As the quality of the school infrastructure and educational standards have grown, its standing in the local community has increased and it is becoming the school of choice for local families. As a result, Moses Kamya has made the decision to make more effort to publicise the school's Humanist ethos to members of the local community. In a recent email he wrote:
"Ever since the conclusion of the UHST/IHEU funded Humanist Ethos Project, Humanist principles have been embedded in the day-to-day management of Mustard Seed School. In common with the other Humanist Schools in Uganda we encourage positive discipline, based upon the principles of empathy and responsibility to the wider community rather than upon physical punishment, which is so common in many other Ugandan schools.
The principles of Humanism are set out in inspiring posters, which are placed prominently around the school, including the Headteacher's office, reception, bursar' office, staffroom, library, dormitories, computer lab and clinic. Guidelines for promoting positive discipline, emphasising guidance and not violence, are equally displayed on walls everywhere.
A humanist counsellor, Simon Bogere supports students in the school by promoting Humanist ideas and being patron to the Humanist Student Club and helping it to carry out good works in the local community. The Humanist Counsellor is also a member of the student-staff disciplinary committee. The Humanist Club meets every Friday and Sunday to have discussions and debates on social issues and to carry out voluntary work around the school and in the community. Recent work by the group has included litter picking in the nearby town and local tree planting.
The school's Humanist Counsellor, Simon Bogere, is currently enrolled on an online course to train him as a humanist celebrant, which is funded by the Humanist Society of Scotland in collaboration with the Chair of Uganda Humanist Association (UHASSO), Kato Mukasa. Once the training is completed, the school will be offering Humanist wedding, funeral and baby naming ceremonies to the local community. A newly designed hall, which is being funded by Uganda Humanist Schools Trust, will be an ideal venue for such events. The school's Humanist Club also intends to organise humanist outreach programs to teach our communities basic hygiene practices and to highlight the dangers of believing in superstition and witchcraft."
The 9th Annual Report of Uganda Humanist Schools Trust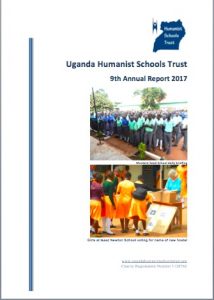 has just been published.
The Humanist Schools in Uganda have made huge progress in the past two years. They are beginning to turn in very respectable results in national examinations, such that both Isaac Newton and Mustard Seed School are among the top 5 schools in their districts and, as a result of this success, are becoming schools of choice for local families. There is huge pressure to get local children into the schools, which are recognised as having high standards of welfare as well as good educational performance. Children leaving the schools are get good jobs, which boost their family incomes, many go on to vocational courses to gain craft skills, nursing and primary and secondary teaching qualifications and a growing number go on to degree and postgraduate study in good universities.
In 5 years the number of children in each school has increased from about 150 to over 500. This is a welcome development because it shows a growing acceptance of secular humanist education in highly religious communities. The growth, however, puts huge pressure on infrastructure and learning resources. We are very grateful to all our supporters for sticking with us to develop the schools and we are receiving help from Humanists in the United States, in particular from St. Louis Ethical Society members, who have raised large additional sums to help the schools.
In 2017 we awarded grants of over £140,000. This is a record for a single year. This included money for 129 full boarding scholarships of £300, to enable children who gain a grade 1 in their primary leaving certificate and who are orphaned or come from very poor homes to attend a Humanist school. We have increased spending on books, learning materials, science practical equipment and chemicals, and computers. We feel that developing the ability of students to learn independently is the essence of a humanist education, so we are committed to maintaining a book rich environment in the schools. In the period 2016-8 we have made great strides with improving infrastructure. At Isaac Newton School we have funded: a second girls' hostel, a new teaching block with 3 classrooms and a science lab, and connected the school and neighbouring communities to mains electricity. Mustard Seed School has received funds for: a new teaching block with 4 classrooms and staff rooms, connection of the school to high pressure mains water from a pumping and purification station on the River Nile, and we are about to embark on a new school hall that will be used for meetings, concerts and examinations.
Thanks to your ongoing support the schools are being gradually transformed so that they stand out among rural schools for the quality of their facilities and for offering educational and welfare standards that approach the standards of the best urban schools.
Since our charity began in November 2008, with your help, we have built up these schools from small, struggling entities to organisations we can all feel proud to be associated with. Making them self-sustaining and beacons of secular humanism is still our goal and we are getting closer, but they will need our help for some time yet. Please stay with us on the journey.
Click to Download Report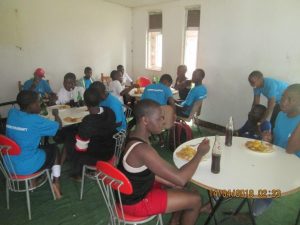 In 2016 Isaac Newton High School set up a Humanist Association to promote humanist values and put them into practice by working in the local community. They decided to offer practical help to some of the poorest members of the nearby village and chose to focus particularly on hygiene and sanitation. The projects they have helped with include repairing old pit latrines, making racks for drying utensils to keep them off the ground and giving soap to these poor families.
To celebrate their efforts the School Director and the teacher who runs the Humanist Association arranged for them to have a day trip to nearby Lake Nabagabo so they could discuss Humanist ideas and relax together.
There is a small beach resort there with a café and some basic accommodation. Unlike most lakes in Uganda, it is considered safe to swim in because the high copper content of the water makes it unsuitable for the small water snail that harbours the human parasite Schistosoma which causes much morbidity in Africa. These are blood flukes which live in the vessels surrounding the bladder or the intestine.
The young humanists enjoyed games of football and volley ball and going for a boat ride. Some of them even braved the water to try swimming. They also enjoyed a meal and a soft drink, a welcome change from school meals. Here are two descriptions of their day, written by Thembo Paul and Bwambale Robert, two students who attended the Kasase Humanist Primary School and have UHST scholarships to enable them to attend Isaac Newton High.
The pictures show Mustard Seed School's star student, Joan Mukisa, being congratulated for her outstanding A-level performance when the results, two Bs and a C, were released last week.
Joan, or Joanex as she prefers to be known, stood out as an exceptional student when she joined the school.  She is a single orphan, who has been supported on a UHST scholarship throughout her secondary schooling. When her father died, her mother, a market trader, was left to bring up Joan with her 2 brothers and 3 sisters. Their home is near Iganga, 2 hour's drive from the school, so she has lived in the boarding hostel. In Senior 3 Joan set her sights on becoming a lawyer, so she could fight injustice. Joan has always displayed considerable leadership and communication skills. She chaired the school Disciplinary Committee and brought considerable acclaim to the school as the scout troop leader. She took them to triumph in Jamborees at District and National Level, and gained third position in the East African Scouting Competitions in Rwanda. She was prominent in the debating society, which should be good training if she achieves her ambition to be a lawyer. In March 2016 Joan gained a division 1 grade in her National School Certificate (O-level) exams, and in the sixth form she has studied History, Economics, Divinity, Subsidiary Mathematics and General Studies and served the school as Head Prefect. She is a delightful girl who has been a role model throughout her schooling. We all expect great things of her as she moves on next to a place in a good university.
Mustard Seed entered 25 students for A-levels in 2017 and every one of them obtained the minimum pass grades. The three lowest achieving students gained two A-levels at Grade D level. The majority of students gained averages of C/D
grades with a few grade Bs.
Isaac Newton High School's A-level results are also remarkable for a rural school in a poor area, where almost all children are first generation educated. While the school gained few very high grades, almost all students gained the matriculation (minimum for university entry) requirement of 2 A-levels and there were many students who achieve C and D grades. This may seem modest, but Uganda has recently stiffened its standards and only the exceptional few students are awarded A and B grades. In National terms out of 2600 A-level centres, Isaac Newton came 124th. The school was 40th in terms of lowest proportion of outright failures. It had the 3rd best results in Agriculture, and they were 113th in science performance (this seems surprising given the relatively low absolute grades in science). However, it is important to note that A-level grades in Uganda are criterion referenced rather than norm referenced. The U.K., which is norm referenced, allows roughly the same number of A, B, C grades – even when the actual standards in the exam fall. Whereas in Uganda they have national descriptors for the characteristics of A, B , C scripts and if no students reach that level then they award no A grades at all – and this has been the position for the last 3 years. A hard exam begets low grades. So getting all students through with C, D, E can put a school high up the league tables.
What is really great, is the position measured on a value added basis – the average percentage rise in the grades of individual students from O level to A level. On this statistic, Isaac Newton came 21st out of 2600 Centres. This shows just how effective the school is at raising achievement from O to A level of relatively poorly performing students at the earlier stage. Their value added from primary leaving is even more remarkable.
The Humanist Schools have defied expectations by matching and surpassing the A-level results of many more established schools. Both Mustard Seed and Isaac Newton Schools are in impoverished rural areas and, for most of their existence, they have had to get by with whatever casual and part-time teachers they could get to cover the secondary curriculum. After 12 years of operation, educational and welfare standards have improved and student numbers have risen from less than 100 to over 500 students. Furthermore, for the past two years they have increased the pay of teachers (though still below most other schools), given full and part time teachers contracts and enrolled them in the National Social Security
Scheme. Despite these improvement in conditions, the schools still rely on young, newly-trained and less-well qualified teachers. However, they make up for this by fostering a sense of belonging and commitment to the school, the community and
the students. Staff turnover is still a problem but has reduced hugely. Efforts to bring the teachers together to learn from each other through the Humanist Ethos Project and other initiatives has also played its part. UHST has also played a part in the improvement by flooding books, computers and other resources into the schools and supplementing the pay of teachers and directors through a salary bonus scheme funded using donations from our loyal supporters, many of whom have stuck with us through the early years of trials and tribulations. It goes without saying, that everyone involved with UHST is delighted with the schools' outstanding progress.
The Uganda Certificate of Education (O-level) results were released last week. Isaac Newton High School had their best results ever – a huge leap in performance on last year.
50 candidates were entered for the exams. There are 9 grades overall and Isaac Newton's results were stellar:
13 (26%) gained Grade 1
23 (46%) gained Grade 2
13 (26%) gained Grade 3
Isaac Newton High School was ranked 181st countrywide out of 3620 schools that presented candidates. In science subjects they did even better, being ranked 45th out of all the schools in Uganda.
In their home district of Kalungu Isaac Newton was the 5th highest of all the schools in the district.
O-level in Uganda is like the old Matriculation in the UK, which preceded O-levels. The overall grade is based on performance in 7 subjects. For a grade 1 students must have an aggregate below 32 across 7 subjects. However, if students gain less than a grade 5 in English Language they are prevented from being awarded a grade 1 overall. Fewer than 7% of students in the whole of Uganda gain a Grade 1 grade – so the students that do are rather special.
According to Peter Kisirinya, the school's Director, "The failure of quite a number of students to achieve a grade 5 in English Language destroyed some of the 1st grades, and otherwise excellent students received 2nd grades."
English has been a problem for these students. Although all lessons are in English, they come from an impoverished rural area where they speak Luganda at home and among themselves. UHST has made a concerted effort with the school to raise attainment in English. We are trying to flood the school with books. In 2016 we started a Reading for Pleasure Programme and each of our schools nominated a Reading Coordinator. We bought many general reading books and ran a very successful Reading for Pleasure Competition in June and July 2017. However, as Peter says, the children need even more English story books, but they need to include many stories that are set in an African (or Caribbean) setting that students can relate to their own daily lives. The school shows the students Films in English from DVDs at the weekends. These greatly improve English listening comprehension.
This years results will be life transforming for most of these students. Many of the students are the first to be educated in their families. Most will now be able to go on with their studies, in academic and vocational fields. They will gain good jobs in the
formal sector of the economy and the money they earn will help to transform the lives of their families. In Uganda there is a strong sense of responsibility to the family and children who do well send money home, even when they now have good jobs in the towns.
One such student is Ellen. She was the second best student in school and passed all 10 subjects and was awarded an overall grade 1. Her best subjects were History, Geography and Agriculture. She is 15 years old and has received a scholarship from a UHST supporter throughout her schooling. Her parents died and she lives with her aunt who has a restaurant. She has 2 brothers and 1 sister. Ellen is now well on the way to achieving her dream of becoming a nurse. Though with these outstanding results she may want to raise her sights towards becoming a doctor.
The best performing student in the school was Robert Semagula. Robert joined the school on a scholarship after completing his primary leaving certificate at Kasese Humanist Primary School. He has had a Humanist education throughout his schooling. Robert was entered for and passed in 10 subjects. He gained an excellent aggregate mark and was awarded an overall a grade 1. His best subjects were Maths, Computer Studies and History. Robert is 16 years old and comes from Kasese District in Western Uganda. His parents are both alive, but very poor, and he has 2 brothers and 3 sisters. He lives with his aunt in the holidays. She makes a living by selling coffee beans grown on her plot of land. Robert's wish since joining the school has been to become a doctor. With excellent performance in science and plans to study Maths, Physics, Chemistry and Biology at A-level, he is well on his way to achieving his ambition. This will be another life completely transformed by education.
Here is Josh dancing at the Humanist School in Uganda:
Happy memories
Steve Hurd
It is with great sadness that we heard today of the death of our dear friend Josh Kutchinsky. It is a huge loss to us all.
Josh played an extremely valuable role as a founding Trustee of Uganda Humanist Schools Trust, where he represented the British Humanist Association. We were together in Uganda in 2008 for the IHEU East African Humanist Convention. He spoke with passion and thoroughly enjoyed visiting, with his wife Ginnette Ashkenazy, the Humanist Schools in Uganda. I remember with some hilarity his extravagant dancing to accompany the student singers and dancers at one of the schools (wish I could find the video!?).
I helped Josh and Ginnette to plan a memorable safari tour of the Uganda National Parks, which was gruelling, given the poor roads at that time, but they found it life enhancing. I recall Ginnette recounting an encounter with a hippo as she tried to make her way from her tent to the toilet block near Lake Mburo.
Josh embraced social networks and set up and ran the Hummay platform for many years. Through Hummay, Josh provided a way for Humanists across the world to network, and gave those, particularly in Africa, a voice on the world stage.
Josh had an acute sense of fairness and social justice and this motivated everything he did. He had a house in France and was a committed European, fighting to the very end the folly of Brexit. Ginette was the love of his life and I know he supported her hugely in writing her very moving autobiography and in her wonderful artistic career, both of which were a great source of pride to him.
Josh will be sorely missed. He will be remembered fondly by us all for his profound humanity.
Steve Hurd
Chair
Uganda Humanist Schools Trust
Here is the latest podcast be Kate Lovelady, leader of St Louis Ethical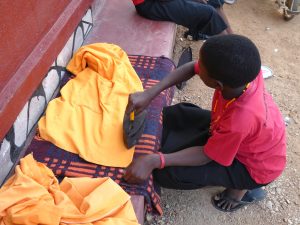 Society, which has raised substantial funds to support the Humanist Schools in Uganda.
The podcast of Kate's annual appeal of 2017 to support the Uganda Schools is at <https://ethicalstl.org/category/podcast/>, specifically on December 3, entitled:
Much of the material for the address is taken on the UHST website, and this year several photos from the UHST website were included. The address is always given on the first Sunday of December and is followed by our "First Sunday Lunch" which in this case is a "typical Uganda school lunch," created from recipes we've found online. Fee for the lunch is "donation only," and those donations together with commitments from several members to support a partial or entire scholarship on their own constitute our fundraising effort for the year
The latest Annual Report by Moses Kamya, the Mustard Seed School's Director, outlines substantial progress during 2017.
At last the school's long-standing water shortage is within sight of relief following the completion of a new high pressure water pipe from a new pumping station on the River Nile. By providing additional unplanned money three-quarters of a kilometer of the underground pipe is being moved out of the way of a new road construction project. It is hoped that the water authority will begin pumping water by the start of the new school year in February.
The completion of a new 4-classroom block will also allow the school to halve class sizes by running two parallel classes in each year. The full report can be downloaded from the blog on the UHST website: https://ugandahumanistschoolstrust.org/2017/12/positive-report-from-mustard-seed-school-director/.
To UHST Supporters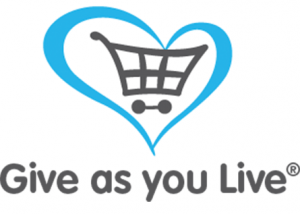 I have signed UHST up for the Give as you Live program. Once registered individuals can link to thousands of shopping sites, including the likes of Amazon, John Lewis and the supermarkets, and a proportion (0.5 to 1%) of what you spend is paid by the shop to UHST.
If a significant number of our supporters sign up it could boost our income by several thousands a year (new people can also donate directly through the system).
If you would like to sign up this is how:
1. Go to our website: https://ugandahumanistschoolstrust.org/give-as-you-live/ and click the link to register for Give as you Live.
2. Give as you Live send you an email with access to an ipad app or a browser link to enable you to go the the Give as you Live portal to choose where you want to shop.
3. Remembering to get to your chosen shop via the Give as you Live link is the challenge when you have been used to going straight there. But most of the online shops commonly used are available through the Give as you Live link.
4. You will receive regular emails saying how much you have raised for UHST and saying how you can raise more money for us, but you don't have to read them all.
Fruitful shopping!?
Steve
The Humanist Schools in Uganda have faced acute water shortage. Increases in student numbers have put pressure on the limited water resources and the situation has been exacerbated by changes in climatic conditions. Since 1991 the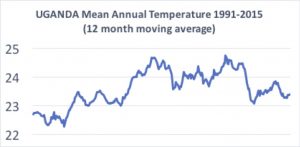 mean annual temperature in Uganda has risen by 1.5°C (see graph). The additional energy in the atmosphere has caused greater variability in weather systems, which has increased the ferocity of rainstorms and given rise to previously unknown periods of drought. Rainfall unpredictability makes it difficult for farmers to time the planting of crops and the onset of unexpected droughts causes almost mature crops to wither on the stem. This has provoked food shortages and further north and east in Uganda there have been periodic famines. Just over a year ago crops failed around the Mustard Seed School, and some people died of starvation.
Climate change has directly affected the schools:
1. Poor harvests have meant that parents of children in the schools have had less surplus food to sell to raise money for school fees, so school fee income has fallen.
2. The shortage of food has forced up market prices. This has raised the costs of students' meals and put pressure on school budgets. In recent years food costs have risen at twice the rate of prices in general.
3. More people have been drawing water from wells, which has led to a progressive lowering of the water table. At Mustard Seed School the main borehole, that UHST paid to have drilled in the school compound, has been pumped dry.
All of this has come at a time when student numbers in the Humanist Schools has been growing, as parents have been attracted by the higher standards of education and welfare being offered in the schools we support.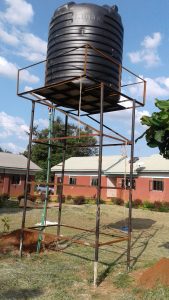 For the past few years the schools have had no alternative but to turn to UHST for help. We have provided emergency funds to buy food immediately after harvests, when it is available and cheaper. When harvests have failed and local fee income has dropped, we have needed to provide supplementary funds to meet day-to-day running costs. When local parents have been unable to pay the fees for children entering for national examinations, we have stepped in to cover the shortfall. When the first borehole ran dry at Mustard Seed School UHST paid for a new borehole to be sunk near a swamp over half a mile from the school. Since then, students have operated a water rota, taking time out of lessons to fetch water needed for washing, drinking, food preparation and cleaning.
Despite these measures, water supply problems have continued to disrupt education in the Humanist schools. When we visited the schools earlier this year, it was clear that steps had to be taken to alleviate the situation. After visiting the regional water company, near Mustard Seed School, we have been able to arrange for the school to be connected to piped water coming from a pumping station on the Rive Nile. This has involved running a pipe to the school 1.5km from the main supply pipe to Kamuli Town. The water will be pumped under pressure to two high-level water tanks – one on each school site. The project, which cost almost £6,000, is now complete. Moses Kamya, the Mustard Seed School Director, has written that:
The Water Company has finished laying pipes and putting the tanks on towers. Taps are in place around the school and we are only waiting for the pumping station to be brought into operation. The children are eager to use tap water in showers and for washing clothes without the hassle of travelling to the borehole. The cooks are eager too since they fetch water continually for kitchen use. It will now be on their doorstep. We are very grateful to UHST for this timely innovation, which will transform day-to-day conditions in the school.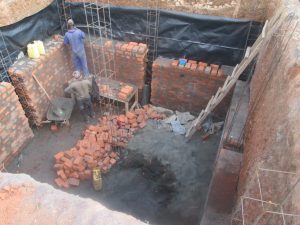 At Isaac Newton High School the has been an urgent need to capture and store more water on the school site, in order to supplement the water being pumped from the valley below. UHST has given the school £4,000 to construct an underground storage tank, which will take rain water from the roofs of the new girls' hostel and the about-to-be-built 4-classroom block. This large reserve will offer some security during periods of drought. Unfortunately, due to its remote rural location, there is no prospect of mains water being brought to the school, so it has to cater for its own needs and those of the immediate village. Peter Kisirinya, the Director of Isaac Newton School, made the following comments:
The water project is on-going with the walls ready and waiting for the top slab to be fitted in one week, after a months provision for setting of the columns and walls. We will have 98,000 litres of harvested water from the three buildings and this will be rain water with minimum contamination to be used for the girls community to wash using less soap – the underground water we use at present has some hardness so it takes some more soap. The girls will have the water in their courtyard and this will help them a great deal. We have had problems with storm runoff but this will reduce since all the water from the roof will be captured. In case of breakdown of the main water supply we shall have water available for preparing the meals.
We are very grateful to UHST supporters who have made possible these essential improvements to water provision in the schools, which will have a big effect on student welfare. Unfortunately, neither scheme will alleviate the fundamental impact of long-term climate change on the schools' host communities.
We have just returned from a wonderful few days at Mustard Seed School. Five international visitors joined us and we took part in a variety of hugely enjoyable activities with students and staff.
Flowerbeds had sprung up throughout the site since our last visit, which made the site attractive and welcoming.
Good results have brought a huge increase in enrolment in the school and this has put pressure on teaching facilities. Fortunately, a new block of 4 classrooms, funded by UHST supporters, is nearing completion. This will allow the school to split into two the currently large classes of almost 100 students. This will ease pressure on teachers and create a better learning environment for students.
The lack of water has become a serious welfare issue and, it is clear that reliance on a single hand-pump is not sustainable. During our visit we were able to talk with the local water authority and have worked out a plan to bring water through a high pressure main into the school. This will cost £5,600 but should solve the water problem for good and all. A full report of our visit can be downloaded from the following link:
For Glenda Miller, a new UHST Trustee, it was her first visit to the schools in Uganda and, indeed, her first visit to Africa. She made the following remarks on her return to the UK:
"The Humanist Schools in Uganda have benefited hugely from being led by charismatic individuals with the energy and vision of Moses Kamya and Peter Kisirinya, as well as from the substantial material resources raised by the supporters of UHST. It wasn't until we visited other Ugandan schools that I was made conscious of how far and how fast our schools had travelled and what a wonderful opportunity the children attending them have been given. The children show their appreciation by the energy and application they put into their studies and all aspects of school life. The children's enthusiasm in the Humanist schools is infectious and their happiness rings out. The good environment, equipment, textbooks, good quality teaching and high standards of welfare play their part in propelling them into becoming the schools of choice in their districts."
If you would like to help support the schools you can download a donation form and standing order form below:
We have just returned from a truly wonderful visit to both Humanist schools in Uganda. Our party consisted of 3 UHST trustees, Steve and Hilary Hurd and Glenda Miller; Renate Bauer, Chair of the German Humanist organisation; and Peter Furness, Chair of Humanist Aid, Australia.
Attached below is my report on our visit to Isaac Newton High School.
We feel the school is really motoring. There was a very positive and happy atmosphere among students and staff. The site is looking good and the school is really beginning to develop a distinctly Humanist Ethos.
It is under pressure from growing numbers of students, attracted by the school's improving performance and reputation. Classes are up to 100 in the lower school, which threatens standards.
The top priority is to raise an additional £10,000 so we can fund the construction of a second set of 4 classrooms. This will allow the school to run two classes of 50 in each year.
Undoubtedly the most satisfying visit we have made to the school, and a testament to the ongoing commitment from supporters to our charity and the schools over the past 9 years.
Thank you
Steve
PS I attach a donor form in case you would like to help us raise the money for the new classrooms or provide a much needed additional boarding scholarship to allow an additional child to attend what is becoming a fine school. I also attach a standing order form in case you would like to set up regular payments for a scholarship (£12.50 or £25 a month for a boarding scholarship).
Report on Visit to Isaac Newton High School July 2017
We have just returned from a visit to all the schools supported by Uganda Humanist School Trust and were delighted to meet the students that supporters are sponsoring at Mustard Seed Secondary School, Busota and Isaac Newton High School, Masaka.
It was a particular pleasure to meet Senior 1 sponsored students for the first time and learn about their family backgrounds.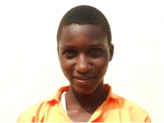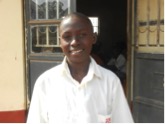 Typical of our new sponsored students are Miriam and Timothy who attend Isaac Newton Secondary School. Miriam is 13 and has three siblings. Miriam's father died and her mother earns a very small income selling basic goods in a village kiosk, but this is not enough to pay school fees. Miriam got the top grade in her Primary Leaving Exam and aspires to be a surgeon. She likes reading novels and is in the school choir.
Timothy is 14 and has 3 siblings. His family are subsistence farmers and have had a particularly difficult time as last year's drought caused the harvest to fail and they had no other source of cash income. Timothy is the class monitor and likes playing football. On Sundays, he washes his clothes and revises his lessons. He got a very high mark in his Primary Leaving Exam and wants to be a doctor.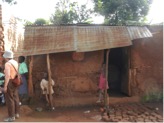 All the students we support are boarders and the girls are delighted with the new hostel that has just been built at Isaac Newton. Boarding keeps the students in a safe environment and provides them with three meals a day and study facilities in the evening and at weekends. Most come from extremely poor homes with no running water or electricity. The picture shows the home of one of our students attending Mustard Seed School.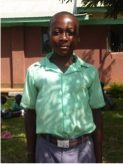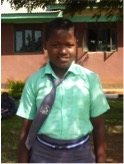 Brian and Flavia are typical of the sponsored students at Mustard Seed, which is in a particularly impoverished rural area. Here too the harvest failed last year through lack of rain. All the sponsored students gained a first grade in their Primary Leaving Exam.
Brian is an orphan, his parents died in an accident. He and his seven siblings are cared for by their grandmother who has a small plot where she grows food for the family. There is no spare money for school fees. Brian is the class captain and is in the football team. He likes science subjects best and would also like to be a doctor.
Flavia's parents are alive and manage to feed their eight children by growing rice and maize and rearing goats. She is the school time keeper and likes to read books. She is in the music, dance and drama group and helps to clean the compound at the weekend.
Despite their challenging background all our sponsored students are happy and healthy and are always smiling and laughing. They study extremely hard and have very high aspirations. They all expressed their gratitude to their sponsors for the chance they have been given to have a Secondary Education.
Additional sponsors needed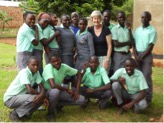 We urgently need additional sponsors so that we can offer scholarships to bright, needy students again next year. A full scholarship covers tuition fees, a place in the school hostel, food and school uniform. It costs £300 per year and can be paid in monthly instalments of £25. Some sponsors pay £150 per year, in which case two people provide for one student.
Scholarships are allocated at the beginning of the school year, in February. Sponsors are sent a photo and some background details of their student and at the end of each year they are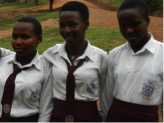 sent their exam results. Ideally sponsors agree to support a student for 4 years and sometimes 6 years if they return to take "A" levels.
If you are interested in helping by sponsoring a student, application forms are available at https://ugandahumanistschoolstrust.org/donate/scholarships/ or, for more information contact scholarships@uhst.org or call Professor Hilary Hurd on 01782 750338.
By sponsoring a student you can totally transform the life chances of an underprivileged child.