2020 Infrastructure Appeal
FUNDRAISING TARGET = £80,000
The Humanist Schools in Uganda have made considerable progress since January 2009, when Uganda Humanist Schools Trust started to raise money for them.
In recent years we have made the following additions to the schools:
A 4-classroom block at each high school
A large hall at Mustard Seed School
A 2nd girls' hostel at Mustard Seed School
Refurbishment of 1st boys' hostel and completion of a second boys' hostel at Isaac Newton School
Additional toilets and washrooms at both schools
Connecting Isaac Newton School to a mains water supply
Refurbishment of old hall at Mustard Seed School to create: a library, a science lab and a computer lab.
In order to finish the infrastructure to cope with a student population of 600 in each school, we now need to raise a further £80,000. This will provide funds for general improvement works around the schools and specifically for:
A Second Boys Hostel at Mustard Seed School
In recent years the school has grown apace and so has the need for boarding. Rather than turn away bright children from poor homes, the school has, as a temporary measure, put bunk beds into classrooms. This has lost the use of 3 classrooms, which are sorely needed for lessons. Furthermore, the accommodation is both substandard and overcrowded. We urgently need to find funds for an extra hostel, otherwise the authorities will force the school to send the additional children home.
A Multi-purpose Hall at Isaac Newton School
Isaac Newton urgently needs a dining hall. At present, many students take their lunch plates back to their hostels and eat on their beds. This is far from ideal. Food spills are inevitable and, although these get swept up, the residue tends to attract rodents into the dormitories. With the larger number of students, the school needs a hall which can be used a private study space and which will be connected to the library by a covered walk way. The Hall will also be used for assemblies, debates and music, dance and drama events.
Would you be willing to help?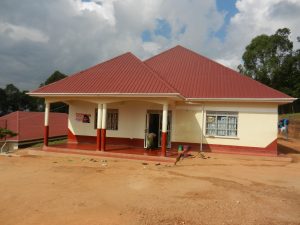 If you, as an individual or group, would like to contribute to the 2020 Infrastructure Appeal, we would be most grateful if you would send a cheque made out to:
"Uganda Humanist Schools Trust":
Address: 31 Greenmeadows Road, Madeley, CREWE, CW3 9EY, UK.
If you are a UK tax payer please consider giving us permission to Gift Aid your donation (HMRC top up your donation by 25%).
If you would like further information then please contact Steve Hurd Tel. 01782 750338.
E-mail: stevehurd@uhst.org